Educarnival, the carnival of the schools of Palermo which will take place on Saturday 25 and Sunday 26 of February, is in its third year. This year's program is particularly full in activities, all to live and visit.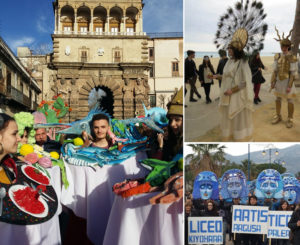 On Saturday morning we start with the representation of theatrical operas by students who will interpret street performances inspired by the classical, modern and contemporary opera and also music, dance performances, all around the city.
Students of tourism' schools will become tour guides to promote and raise awareness of the territory of the old town to tourists and citizens.
In the afternoon students of hotel management school of Palermo and the High School of Castelbuono, will organize gastronomic workshops with tastings open to the public.
Piazza Verdi will be used as a stage for music and dance performances.
On Sunday morning, students will participate in the activities of orienteering in anticipation of the student world championship of this discipline to be held for the first time in Sicily in April (for those who do not know it, it is a consistent practice in being able to move in places, unknown places, using only compass and topographic map as quickly as possible.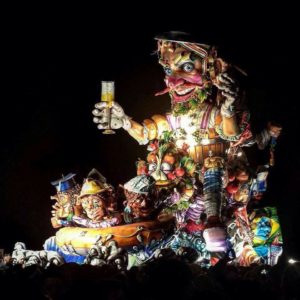 They will continue the guided tours and theater, music and dance.
Sunday afternoon is dedicated to the parade with the participation of students in masks with wagons made by the schools, but at the same time will not stop performances by students on the stage set up in Piazza Verdi, where at the end of the parade will be the awarding of the most beautiful masks.
But, of course Palermo is not the only Sicilian town in which we celebrate the carnival this weekend.
Acireale is expected the annual parade of gorgeous allegorical wagons that will end with a show in Piazza Duomo.
The samba school of Misterbianco (Catania) will organize a musical caravan on Saturday, followed by a parade of the "most beautiful of Sicily Costumes" on Sunday.
A Scicli (Ragusa) will be held "U Carnaluvari ra Stratanova" that will include music, street performers, parade and food tastings.
A Sciacca (Agrigento), another of the parades among the most famous of Sicily, with wagons made by the collaboration of craftsmen, sculptors and architects.
The tradition of Immerese Termini (Palermo) in addition to the parade floats, including the burning of two puppets called "nannu" and "nanna" at the end of the festival.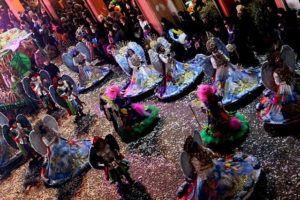 Do not miss Messina.. Novara offers a nice variation, the Majorcan Game, during which the teams throw down a path, "a maiurchèa", typical cheese like pecorino, which on Shrove Tuesday gets the festival.
Art, young and fun for this carnival in Sicily … you're spoiled for choice!
And do you know other cities that celebrate Carnival in traditional or innovative way, or in a different way?  Do you want to tell us? We invite you to write to info@sicilyandsicilians.com