We know that our Sicily is full of young, talented and one of them is definitely Marco Gallo.
Marco Gallo is a young film director of Agrigento, who abandoned his beloved city to pursue his dream: becoming a film and be able to tell his stories through video. This passion was born in him when the artist was still a teenager and his father by accident she gave him a camera. The director, although he also projects outside of Sicily, do not forget his homeland. In fact he has already initiated several projects in Sicily all in the coming months. After becoming aware of "1768 days", a film that he shot of Totò Cuffaro, famous Sicilian politician, we decided to offer him a brief interview.
Hello Marco! How would you define you, if I were to use only 3 words?
Determined, positive and neutral.
I wanted to write beautiful and charming but over the years something has gone wrong. Seriously I add definitely ambitious.
Tell us about your route and what do you do?
I went away from Agrigento to 18 years and at that time I was determined, positive and neutral. I studied film at Cinecittà with the dream to tell stories, to show the way I see things and communicate. Ten years have passed and I do not see anything different if the experience of years of sacrifice, work and errors. These are decisive in a growth path. And certainly some satisfaction in the years that never hurts.
Where did your passion for directing?
At 16 my father gave me a video camera for the holidays. It turned into a means of communication for my life. I always imagined stories, thoughts, sentences and served only a gesture that opened my eyes and a way to tell her. So when I realized that I would not win a gold ball or an Olympic gold medal, I found myself alone with the camera and I realized that it was not random.
Tell us about the best videos of Totò Cuffaro you shot?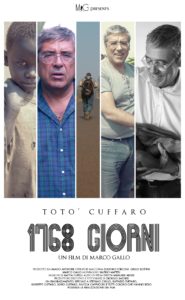 1768 Days is a documentary-film that tells the story of a former president who at the height of his career he lost all the power he had and after 1768 days has regained his freedom as a man, a second life. It is a very important story to me, a piece of history of Sicily Totò Cuffaro because it was the only politician to have served a sentence in prison, was for many the President and today is still "celebrated" by many people, a strangest thing that prompted me to tell this story. I followed him to Rome, Sicily, in Africa … and there we lived an extraordinary and unforgettable experience. 1768 DAYS is definitely one of my most important projects.
Can you tell us something about your future projects? They will always have as our focus Sicily?
Yes, absolutely. Sicily for me is always home, I drove past several videos in Agrigento, my hometown. And I will continue to do so. But the next video output will be my final version of my look at Agrigento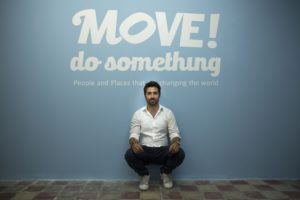 and city around, and will be part of the "City of the temples" of the founder Cristian Moncada, a tourism project and innovative culture in my opinion, and will be presented February 24 to 25 at the tourism Forum at the archaeological park of the Valley of the Temples.
Then I continue to prepare the second edition of the Farm Film Festival, an international film festival of short films at the Farm Cultural Park to be held August 17 to 20. I can not wait. I live in Rome for ten years, but I am and will always Agrigento and Sicily.
Sicily and Sicilians intends to spread the Sicilian excellence in Italy and abroad. You who are a talented young Sicilian and six appreciated throughout Italy you have any advice for your peers who, like you have a passion and struggle to be realized?
The first thing I recommend is to listen to yourself and face the reality. Needless to poke fun hoping that luck arrivals from heaven, it is totally unnecessary to take for granted the things if you do not try and do not give the best in what we do, it is useless to do things just for money without passion and when a young learn to listen to themselves and face up to reality, he will begin to understand what it really wants from his life and then he can start thinking about how to get what he wants.
When you find it hard to realize it because you do not have clear ideas and the right determination, it takes a lot of sacrifice for what you do, you must be able to give something up, you have to know how to accept defeat and be aware of their mistakes. Never try to be always right, it is already partly wrong. Then, frankly, I think for me it is not yet time to give advice. For me this is not a point of arrival but only the beginning.
Need something we've asked you?
No, not today what I am asked I hope it's good to be asked about a next time.
To learn more visit his site Marco: www.marcogallo.it